Very tasty diet "Kiev" cake. Without flour, sugar and butter!
Have you heard that there are cakes for losing weight?And they really are! The recipes of these cakes contain the products that we need to maintain a healthy lifestyle and proper nutrition. They can be eaten almost without restrictions, but not to gain extra weight, but on the contrary - to slim!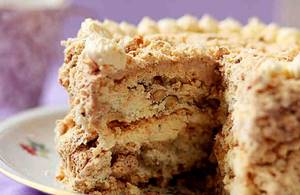 Today we offer you a recipe for one of these cakes.This is a dietetic Kiev cake, which contains neither flour, nor butter, nor sugar, but it is no less tasty than its non-dietary classic. Dietetic cake is not inferior to him in his taste, and nothing about the benefits and say nothing. It is much more useful. So…
We take:
For the cake:
8 pieces egg whites,
2.5 tbsp. oatmeal,
1 tbsp. corn starch,
150 g hazelnuts,
5 tbsp. l. fructose,
citric acid at the tip of the knife.
For cream:
3 egg yolks,
25 g of cocoa powder,
1/2 cup of milk,
1 teaspoon cornstarch,
fructose to taste
250 g soft cheese (Philadelphia or similar),
1 tablespoon of oatmeal.
Cooking cakes
Oat flakes are crushed in a coffee grinder to the consistency of flour.
Nuts fry in a frying pan or take already fried.
We crush nuts.
Mix nuts and oatmeal.
Beat proteins with the addition of citric acid. When they become white, gradually introduce fructose and beat until stable peaks. Mix with nut-oats crumbs.
We bake 2 cakes, Cakes need to bake at the same time. Cakes get better if you bake them in forms.
We bake cakes in the oven for 20 minutes at a temperature of 150ºС, then another 30 minutes at a temperature of 120ºС, then another 30 minutes at a temperature of 90ºС.
Cooking cream
Milk bring to a boil, but do not boil.
Beat yolks, add starch and fructose.
Gradually pour the milk into the yolk mixture while whipping.
We put on a slow fire and brew the mixture until thick.
Cool and add cream cheese and 1 tablespoon oatmeal. Stir.
Divide the cream in half.
Add cocoa to one part of the cream and mix thoroughly.
Picking up the cake
Cooled cakes get out of shape.
We coat the cake with white cream, cover with the second cake and coat the cake with chocolate cream on top and around the perimeter.
We decorate the cake with chopped nuts. You can also use cream and fruit candied fruits.
Date: 09.10.2018, 12:43 / Views: 31582
Related News
Installation of a metal-plastic door
How to teach a dog to bring slippers
5 best natural dyes for Easter eggs
Vase with pumpkin do-it-yourself
Houseplants: Proper Spraying
New way to cheat customers in the store
Decorative bottle. Memories of the sea